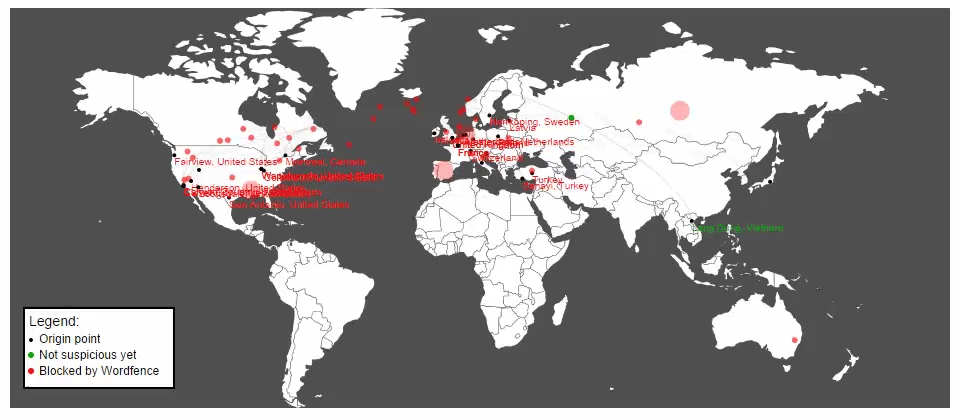 Are we under attack?
Well, your website certainly could be. The world map you see above is showing only 2% of the attacks that happen every minute. If you were to look at the map at 100%, it would overload your web browser.
At Lee Media Group, we use a security plugin (an add-on feature) called Wordfence for all of our WordPress clients. Wordfence blocks 10 to 40 thousand brute force attacks every minute.
Wordfence, along with other security plugins and server-side security measures helps prevent your website from being a victim of these attacks. What is a brute force attack? Simply put, attackers use programs and protocols to find weaknesses and vulnerabilities within a website. Once they gain access to your site, they can hijack it (preventing you from having access), delete your content and add their own.
One very common attack is to inject malicious code that can cause your website to pass viruses and malware on to your visitors. This can lead to being blacklisted from Google and other search engines.
Another way to prevent your website from being a victim is to have your plugins up-to-date on a regular basis. WordPress plugins always have some sort of update ranging from new features and bug fixes, to security vulnerability fixes. Leaving a website running without these crucial updates can make it vulnerable to attack. It can also cause the website to "break."
What do you mean "break?"
Plugins aren't just used for security. They're also used to give your website functionality. The social media share buttons you see on your website? Those are plugins. The contact form a customer fills out to request information or a phone call from you? That's a plugin. Do you have a shopping cart feature on your website? It's also a plugin.
Imagine if those features weren't updated for months. The functionality of your website could be in jeopardy. All of a sudden, people can't like your recent blog post, contact you through your website, or buy your new hot seller directly from your site. This could all happen if you don't have your website updated regularly.
My website doesn't look pretty anymore!
My website looked pretty after I launched, but now it looks "off." Plugins can also be the cause of this. When plugins are updated, sometimes the code can change the way the theme looks, causing your website to "break" in a visual way.
I think my website's been hacked!
If you think your website has been hacked, we can help. With help from Web Developer for Hire, we can fix the damage a brute force attack has caused to your website, ranging from malicious code injections to full-scale attacks.
What can I do to fix or prevent this from happening?
With a web support plan from Lee Media Group, we make sure that the functionality of your website isn't compromised from plugins and WordPress version updates. If the look of your website or functionality changes or breaks, we work directly with the code to fix the issue. With a web support plan, we receive notifications from our server and security plugins if a plugin on your website has become vulnerable. Then, we go to work immediately to prevent attacks from happening.