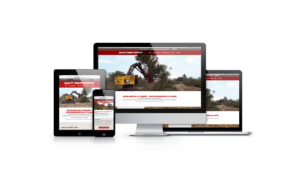 In our little building on Rose Hill road, we have a lot of foot traffic, but we don't get many walk-in customers. Some of our leads come by phone, but most come from word-of-mouth. People talk and we're glad they're saying nice things about us. Last month, we had the pleasure of meeting Paul Stearns, a gentleman who walked in the door, "on a whim," and soon after, became another happy Lee Media Group client.
Quality Timber Products
Paul Stearns is the working owner of Quality Timber Products (QTP) a company that clears and removes cedar trees across Kansas, Oklahoma, and much of the Midwest. He uses the timber to produce cedar mulch for landscaping, playgrounds, and animal bedding.
Coffee and New Possibilities
When Mr. Stearns walked into Lee Media Group, he had several things on his mind, (1) his outdated website, (2) his new animal bedding business (3) collateral material for a conference, and (4) his inactive social media. On his initial visit, Mr. Stearns was greeted by our content writer, Dani Stone. After fetching him a cup of coffee (it's a small town and we're very hospitable), he described his business, explained his new ventures, and asked how we could help. By the time his cup was empty, Paul and Dani were already laying the groundwork for next steps including a new website, photography, flyers, and even social media opportunities.
The QTP Overhaul
In the same way that QTP's feller buncher machine clears away trees allowing ranchers to start anew, our web team eliminated the old website and built a new site with a fresh design, improved functionality, and mobile responsiveness. We were able to take care of everything on Mr. Stearn's wish list and then gave him even more. Not only did we create flyers to showcase his business, and new product line, we also created videos showing his team in action using sophisticated forest machinery to make quick work of tree removal. A short video appears in the background on his website. A longer video was shown at a spring conference in Woodward, Oklahoma.
It was a pleasure to help Mr. Stearns update his website and create much-needed collateral material. We will continue to help Quality Timber Products increase their brand awareness by assisting with social media management. To see more details about this project, please visit the QTP portfolio page.