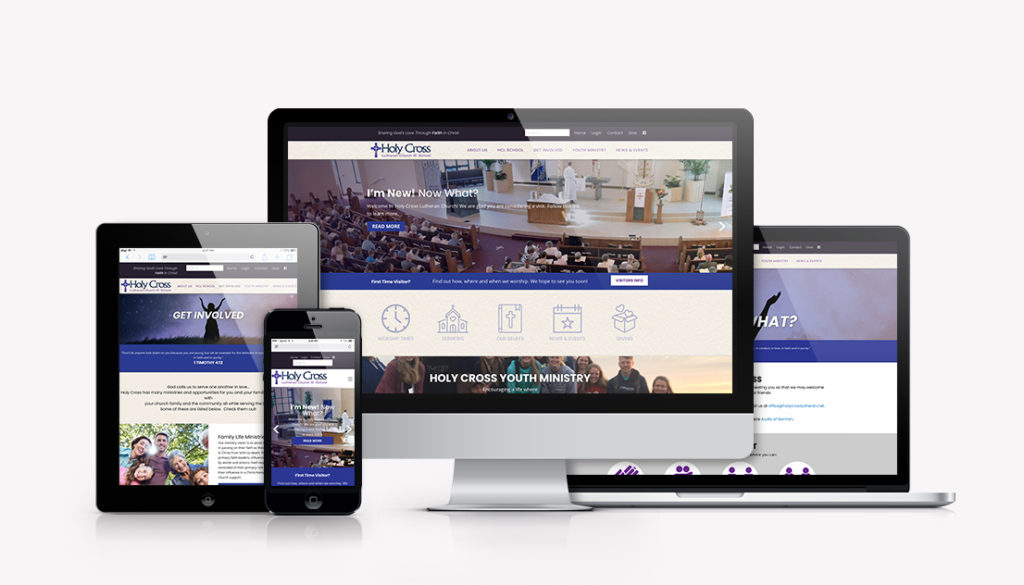 In 2009, Lee Media Group built Holy Cross Lutheran a new school and church custom website that exceeded all their design and functionality needs with features including being user friendly, well organized and easy to update for calendars/news, teacher information, church sermons, etc.
One decade later, the functionality was still there – but the design was outdated. Like a home with wallpaper and shag carpet (ok, maybe not that bad – it was only 10 years ago), the structure was still great, but it needed a little cosmetic work. Holy Cross asked our talented web devs to perform a face lift – and our team went to work updating their logo and redesigning their site with a vibrant, more responsive, mobile-friendly and more modern look.
The newly redesigned easy to navigate site features a modern, custom theme with a homepage that better organizes important areas with attractive icons to highlight services including: Worship Times, Sermons, Beliefs, Donations, News/Events and Reading Through the Bible – a feature that is now searchable by keywords for dates. Youth Ministry now features a promotional separate mini site with a fun, fresh look.
New Holy Cross church members now have a landing page for joining and current members can now log in to view contact information and other members-only information. Other features include a Facebook feed on every page as well as feeds for church member testimonials and upcoming events. WordPress Multi-Site functionality allows the church to have separate blogs for some of their different programs as well.
Our team has provided ongoing support for Holy Cross Lutheran throughout the years and we take pride in our ability to custom create and exceed their expectations with this site redesign. We proudly continue our long term client relationship and look forward to many more years with them. Check out the fresh new website here!