Tradeshow Display Wins First Prize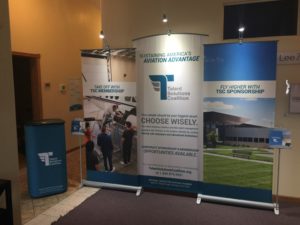 Rose Hill, June 2017 – Lee Media Group is thrilled to announce that our creative team won a national first prize design award from the National Federation of Press Women (NFPW). The entry, a four-piece tradeshow display, won for the Advertising, Posters, Billboards, & Banners category. Last month, we won 1st place for the same category at the 2017 Regional NFPW Communications Awards in Manhattan, Kansas. We also took home 2nd place in Print Advertisement for a piece we created that was featured in Delta Sky Magazine AND 1st place for our, "Choose the Right Fit" advertising campaign for Comfort Systems.
The Winning Design
In 2016, Lee Media Group worked with the Talent Solutions Coalition (TSC) to build a website and design brand elements for their budding enterprise including a logo, and tradeshow display. TSC leaders wanted an impressive banner they could set up at tradeshow conferences and other special events. Our graphic designer (Nick Bishop) who also created the aviation-themed logo, looked through hundreds of actual photos until he found pictures he felt represented the essence of TSC – aviation education and employment. Next, our creative writer (Dani Stone) went to work creating eye-catching content for each of the three main pieces of the display. The phrases, "Take off with TSC Membership," and "Fly Higher with TSC Sponsorship" were used to solidify the aviation connection and pique the interest of passers-by who might be curious about sponsorship and membership opportunities. The content in the middle pane, "Your people should be your biggest asset, choose wisely," was also created by Lee Media Group and was subsequently used in a Delta Sky Magazine advertisement.
I'm used to looking at my designs on a computer or phone so it was fun to see something I created on such a large scale. ~Nick Bishop, Graphic Designer
Awards will be presented at the NFPW Communications Contest Awards Banquet Saturday, Sept. 9 2017, during the organization's annual Communications Conference in Birmingham, Alabama.
############################################