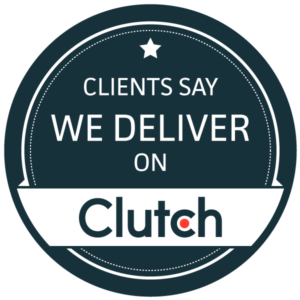 Lee Media Group has more than just a good grasp on ratings – we've got a Clutch!
Digital presence has quickly become one of the most important components of a business's brand identity and marketing efforts. Lee Media Group strives to deliver nothing but the best web development services for our clients, catering to and exceeding their needs by using the holistic nature of web design and development. We take pride in our work and are excited to share some news that justifies our pride!
We are pleased to share that Lee Media Group is included in Clutch's directory of the top PHP developers in the world. Clutch is a leading provider of verified ratings and reviews for B2B service providers. It uses detailed market research to identify top firms and help businesses form better partnerships with each other. We were included in this detailed research, and we were delighted to discover that our team outranked more than 800 other top PHP developers. Way to go, Tabytha and Erin, our top web developers!

The research we were subject to was highly detailed, considering factors such as marketing presence, previous work, and most importantly, client reviews. Clutch analysts collect detailed reviews from companies' clients, asking questions about the quality of their work, its value, and their project management skills. We are fortunate enough to have clients willing to share reviews with us, giving us a perfect rating of five stars and feedback like this,
"I feel like they are an extension of my own business. We are well-connected with their project management tools so that there is a record of our communication." – Founder, Adventurous Babes Society, LLC
Client feedback in any form is a valuable resource, and we are grateful for the opportunity to receive such detailed and descriptive reviews. We look forward to seeing what else our clients will share with us, and we will continue to use their feedback to improve our skills and services.
Grasping for More…
In addition to our presence on Clutch, we are featured on their sister-site, The Manifest. The Manifest is a resource for small to midsize firms in dozens of industries, offering insights and how-to guides for any number of challenges. We are included on their list of the top social media agencies, with notice being taken for the quality of our work, its price, and the size of our team. We are grateful for our presence as a top firm on two industry resources, and for two different services.
Thank you to everyone who has helped Lee Media Group become regarded as a top web development and marketing firm. From our team to our clients, we want to recognize everyone whose support has made this all possible. We could not have done this without your help and cannot wait to keep climbing the ranks together!