Lee Media Group Announced as a 2021 Local Excellence Award Winner by UpCity
Every year, UpCity analyzes and scores more than 70,000 service providers based on their Recommendability Rating and acknowledges the top national and local providers with an Excellence Award.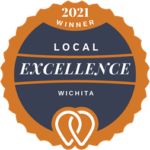 We're ecstatic to announce that the Lee Media Group team has been recognized as one of the top B2B service providers of 2021 for our digital marketing and Wichita web design services by UpCity!
This recognition has been driven in large part by our 5-star review rating on UpCity. We also came highly recommended by Heidi Sullivan, Senior Vice President of Product and Marketing of UpCity:
"Tenacity and focus mixed with that Midwest charm sets this marketing and media team apart from the rest. Lee Media Group takes on some of the most challenging clients and always outperforms themselves. We are delighted to award this team the Local Excellence award. We can't wait to see what this team does next."
Our team is very grateful for our amazing clients, peers, and to receive the UpCity 2021 Local Excellence Award. We truly love what we do and are honored to be recognized for it!