2017 Wichita American Marketing Association Marketer of the Year Nomination
Project Description
Comfort Systems is a plumbing and HVAC provider in Wichita, Kansas. Lee Media Group rebuilt the Comfort Systems website and also assisted with their monthly marketing strategy including social media, collateral material, media buys, and official sponsorship of the Wichita State University Shockers. In late 2016, we launched the Choose the Right Fit campaign. The theme was used on the website, billboards, social media platforms, television commercial, and video brochure.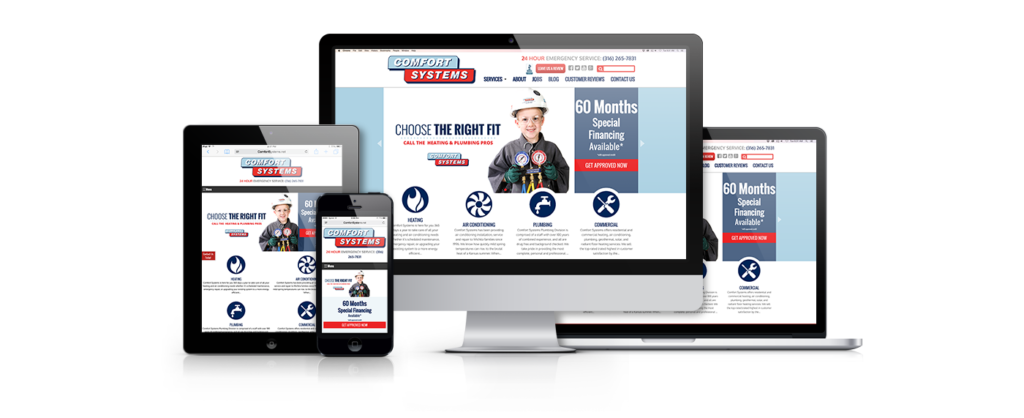 Objectives
We wanted a tagline that would underscore the importance of finding the most qualified HVAC company in Wichita. With over 100 years in business, a 2016 Innovation Award from the Wichita Business Journal, and a host of accolades from happy customers, we knew the message was on point but we needed a visual representation of the hook. Our idea was to show small kids dressed in over sized or ill-fitting uniforms next to a tagline asking potential customers to, "Choose the right fit" for their heating, cooling, and plumbing needs. We knew cute kids + big uniforms + an easy-to-remember relevant slogan would go together nicely and allow for dozens of variations.
Execution
Static Billboards
As part of our contract with Comfort Systems, we negotiate and coordinate media buying efforts including billboard, TV, and radio. For the new campaign, we purchased three static billboards (with a 4th coming soon) and made sure they were placed in heavy traffic areas throughout Wichita. All the billboards have photos of different kids, but the branding (uniforms, font, colors, message) is the same. We felt this was a great way to get the Comfort Systems' name in front of thousands of potential customers every single day.
Results
The client was thrilled with the result and gave us carte blanche to run with the campaign in any direction we desired. Comfort Systems currently has three different static billboards across Wichita (with a fourth coming soon) depicting the slogan with pictures. We also created sliding images for the website, header photos for Facebook and Twitter, filmed a commercial with KSN, designed collateral material, and even created a unique portable video brochure. In the future, banners for WSU games will all have images that tie into the advertising campaign. We're very proud of, "Choose the Right Fit, Call the Pros."