Google's Switch from Universal Analytics to GA4 is Mandatory Starting July 1, 2023.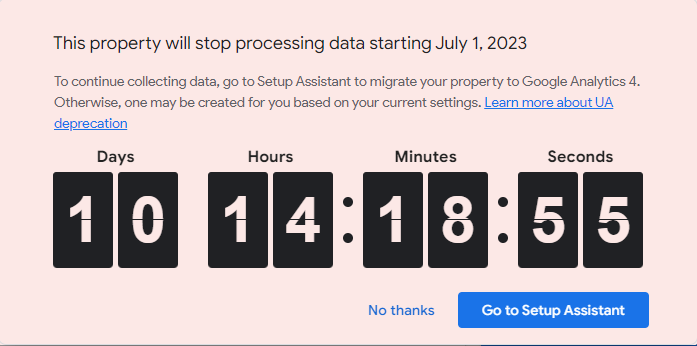 Many of our clients have received Google's forewarnings including emails stating "Your Google Analytics account needs immediate attention. Our next-generation measurement solution, Google Analytics 4, is replacing Universal Analytics. Starting July 1, 2023, standard Universal Analytics properties will stop processing new data."
This switch will also affect Google Ads, meaning that Universal Analytics data for current ad campaigns can degrade and ad performance can be impacted.
If you log in to Google Analytics, you've probably also noticed the repeated pop-up warnings, but never fear…your trusty marketing team is here and way ahead of the curve! We've worked on the process of moving all client accounts from Universal Analytics (UA) to Google Analytics 4 (GA4) over the past 6 months and have all accounts transitioned over to GA4. All is good in the world of analytics and we've kept the all-knowing, ever-changing Google beast happy! 🙂
If you have any questions about switching from Universal to GA4 or about your Google Analytics in general, please don't hesitate to reach out to us by emailing us at support@leemediagroup.com and we're happy to help!