"Irasshai" to Wichita, Jinya Ramen!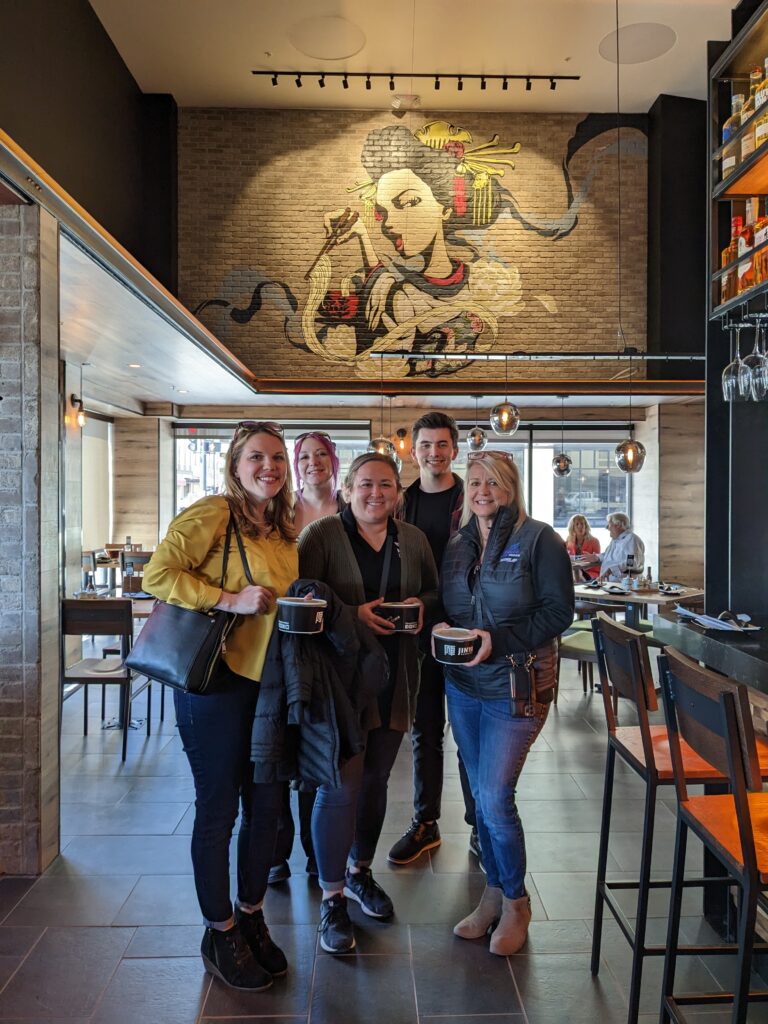 We were the first guests to dine at Wichita's new Jinya ramen noodle restaurant in WSU Tech's National Institute for Culinary and Hospitality Education (NICHE) building!
Our team was greeted (and surprised) as the staff shouted "irasshai" at us ("welcome" in Japanese). We had an invitation to the soft opening and were each treated to a soft drink, small plate, and our choice of ramen.
Jinya has lots of natural light and windows, modern Japanese-inspired decor, an open kitchen, and a very cool open bar with bottles of sake and liquors on display.
To start, we tried the Brussels Sprouts Tempura, Caramelized Cauliflower, Spicy Creamy Shrimp Tempura, Crispy Rice with Spicy Tuna, and Spicy Tuna and Salmon Cones. Each small bite had a unique presentation, lots of flavor, and the perfect amount of tempura crunch. Perfect for splitting before our big bowls of ramen showed up!
We tried pork and chicken-based variations of ramen. While we weren't supposed to add/substitute for the soft opening, they added seasoned egg, bok choy, and thick noodles to our bowls as requested.
Staff favorites:
Unique presentation, and the Spicy Umami Miso Ramen was delicious!
Fun atmosphere and the JINYA Tonkotsu Black ramen broth was incredible! I can't wait to try a cocktail.
I LOVED the savory broth of the Spicy Chicken Ramen and gluten-free/vegetarian options. I loved the vibe, music, bar, lighting (which was tested while we ate;), and looking forward to happy hour!
Chill atmosphere, menu variety, great service, and lots of add ons. I want to go back and sit on the patio!
The delicacy they put into the appetizers and the modern atmosphere/lighting
By the time we left, Jinya's indoor tables, bar top, and covered patio were nearly as full as our bellies. Our team was eyeing the beautifully garnished, refreshing cocktails being sent out from the bar. We'll definitely be back to enjoy one for happy hour on the cool patio after work soon. Check out our newest TikTok post and "irasshai" to Wichita, Jinya!
Sidenote: Wear a dark shirt or have napkins ready to wear as a bib when you go. The soup slurpin' splatters are real! 😉