Facebook Scams: How to Tell If Messages Are Real or Not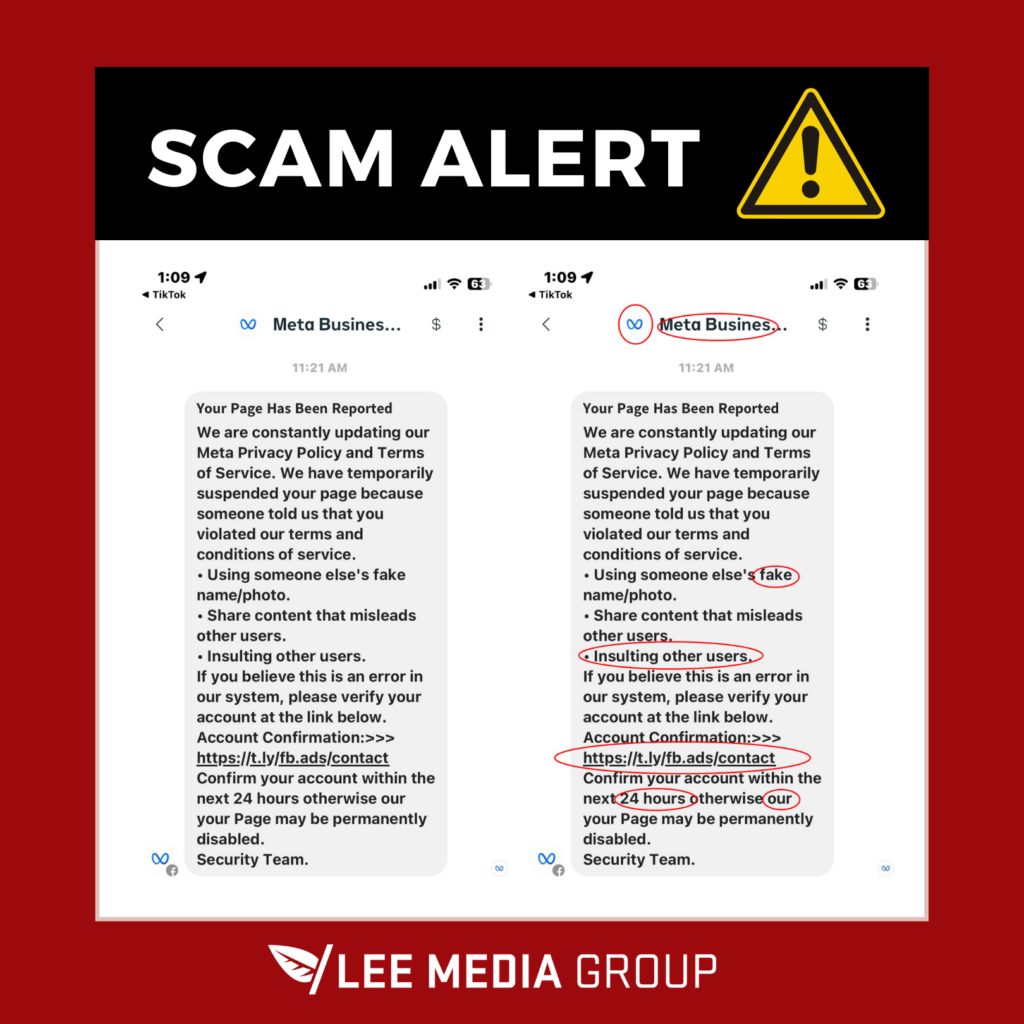 Recently, we've had several clients and friends get this message on Facebook, claiming to be from Meta. The message says "Your Page Has Been Reported," and threatens to disable your page unless you confirm your account within 24 hours or it may be disabled. 
This can seem scary, but your trusty Wichita web development and digital marketing agency is here to help! Here's how to tell if a notification is a scam – and what to do if you receive it.
Scams are often threatening and usually contain:
Unusual fonts or logo variations (Meta logo is upside down in this message)

Grammatical errors or strange wording (misplaced commas, accent marks)

Urgent messaging

Strange links to click on or download something

Require you to give personal or financial information
Legitimate notifications:
Come from a trusted email address

Important messages will not be sent through private messages or comments on social media

Won't ask for personal or financial information 
When in doubt, just remember "SCAM":
S – Stop: Don't click on or download anything. Does this message have unusual wording or sound urgent?
C – Check: Is this page source legitimate? To see if the link is legit, hover your mouse over the link to see a preview in the bottom left corner of your browser. Does it match what you expect the website's URL to be?
A – Ask: Have a friend, coworker, or your digital marketing agency partner (like yours truly:) look at it.
M – Move On: Take a screenshot, block, and delete the account from future scam attempts.
Scams come in a wide variety of forms: Facebook message scams, Facebook Marketplace scams, email scams (winning something you didn't sign up for), giveaway scams, or even physical letters. If you suspect you've received a scam notification, please don't hesitate to reach out to your trusty Wichita marketing agency at (316) 239-6466 or support@leemediagroup.com and we're happy to assist. Scram, spam!
Sincerely,
Lee Media Spam Security