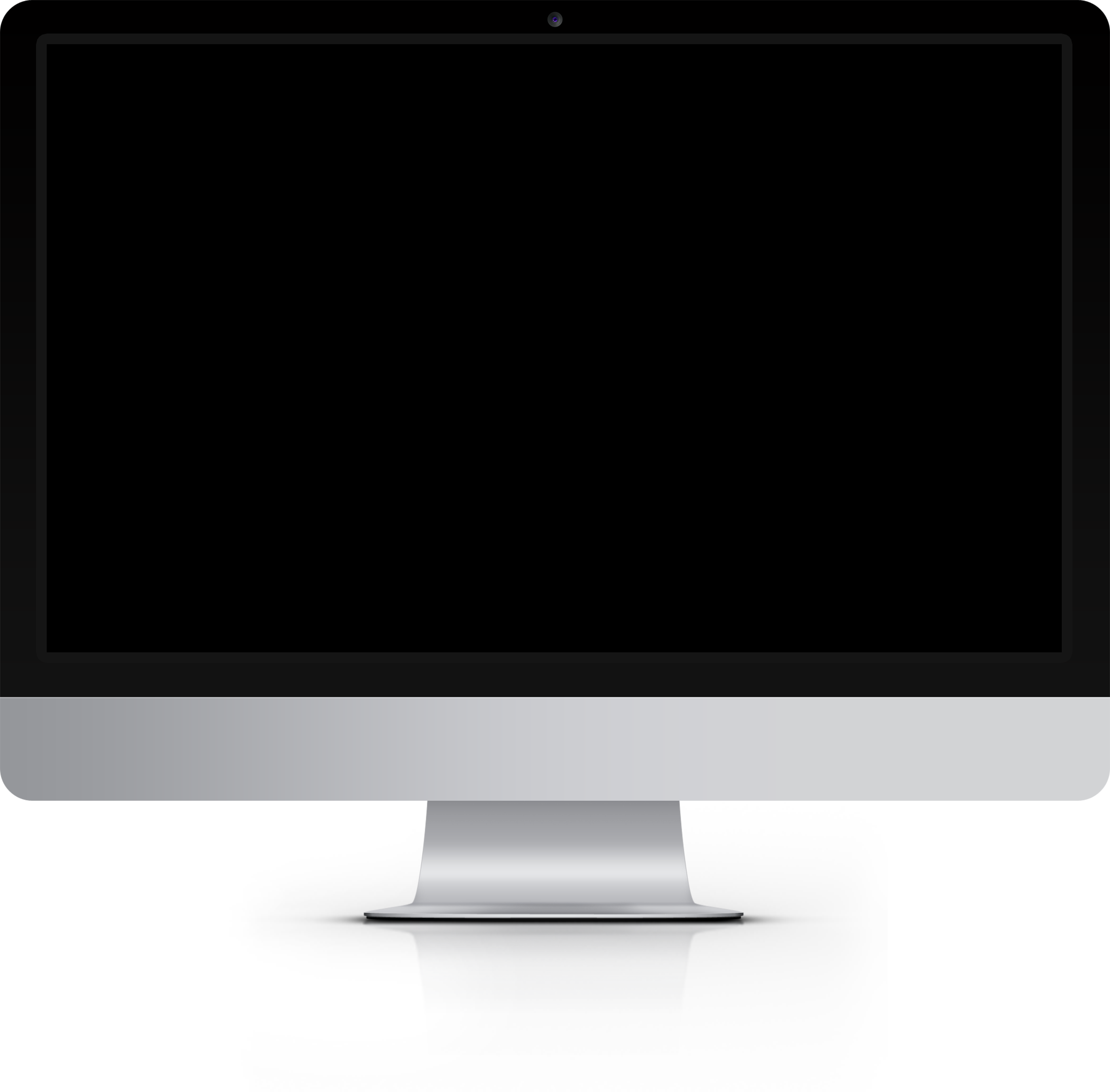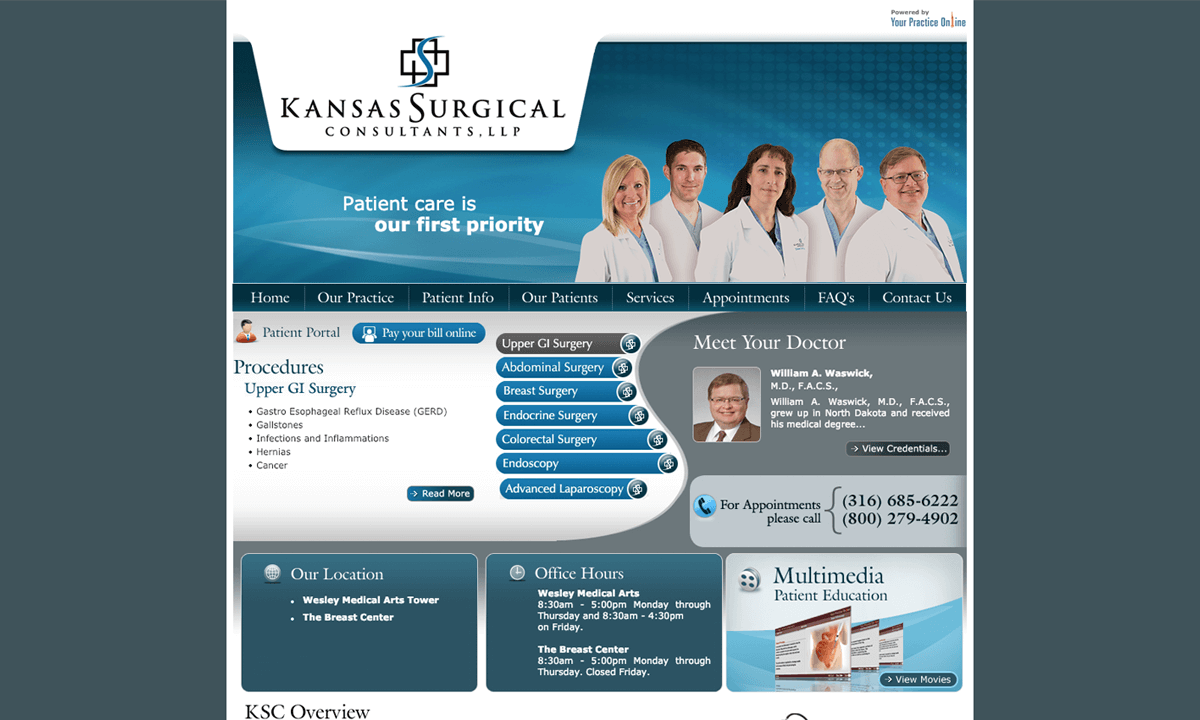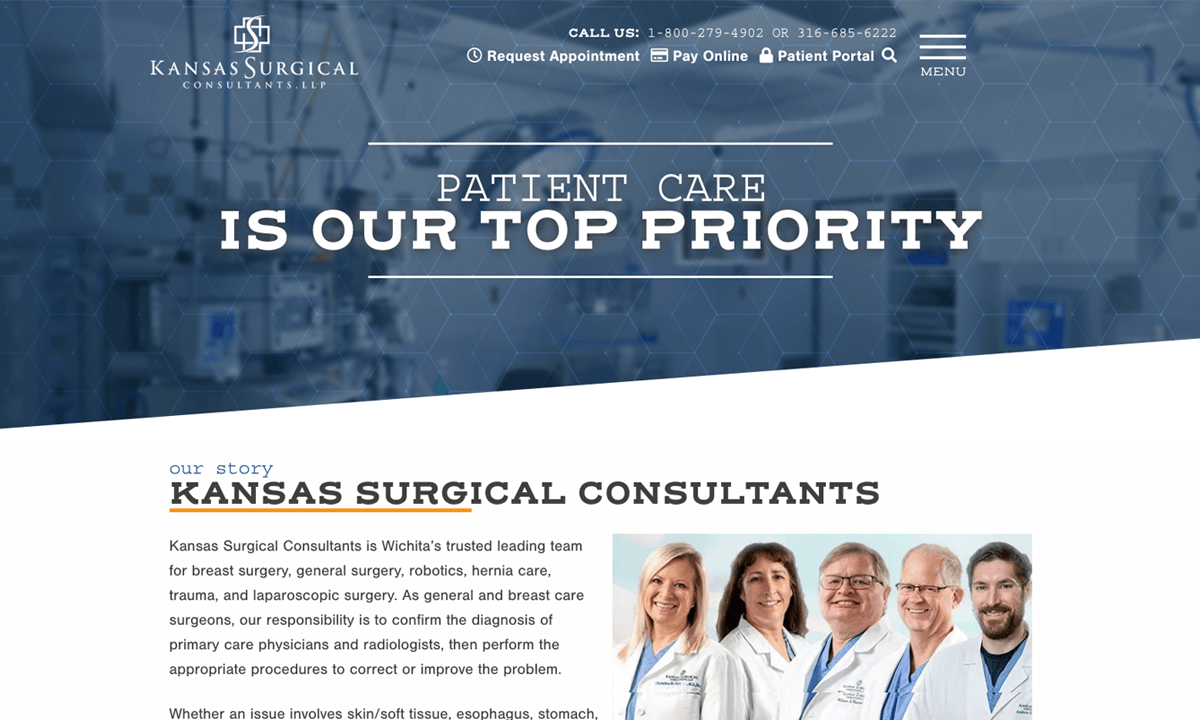 Who We Helped
Kansas Surgical Consultants is a long time trusted Wichita surgical team providing innovative breast surgery, general surgery, robotics, hernia care, trauma, and laparoscopic surgery. The team offers a variety of procedures and surgeries – including advanced robotic surgery options, which result in faster surgery and recovery time.
Until the recent new website launch, nothing about the Kansas Surgical Consultants (KSC) website reflected their branding as state-of-the-art, progressive medical care.
How We Helped
KSC came to us in desperate need of a complete website rebuild. Their previous site was nearly a decade old, not responsive, and had disorganized, out-of-date content. Information on the Kansas Surgical Consultants website was not at all easy for patients to find. Visitors to the site needed to spend time searching the outdated layout and disorganized content on the previous website to locate patient forms or surgical information. Our top web developers and content writer went to work, completely reorganizing the layout and content organization.
how we did it
We implemented a fresh, vivid new website design including a new cleaner menu layout. The new drop-down menu provides easy to navigate information for visitors to locate company information, surgeries/procedures, and services offered as well as patient information including forms, FAQs, and patient resources.
Our writer researched and learned a lot of medical terminology in the process of reorganizing and – as she describes it "fit in the puzzle pieces" – to complete the newly reorganized, easy to navigate content for website visitors. She also oversaw the photoshoot as we implemented all new professional photography to highlight the awesome KSC staff with new headshots.
Our web developers completely redesigned Kansas Surgical Consultants, implementing a modern, mobile-friendly, responsive design, and eliminated the need for Adobe Flash. We added in a new online testimonial feed as well as made content easy for KSC staff to update as needed on the new WordPress platform.
This website was at times tricky to coordinate (i.e. a photoshoot for busy trauma surgeons all in one place on the same day or finding time for content reviews). We are proud to add it to our growing list of healthcare website redesigns!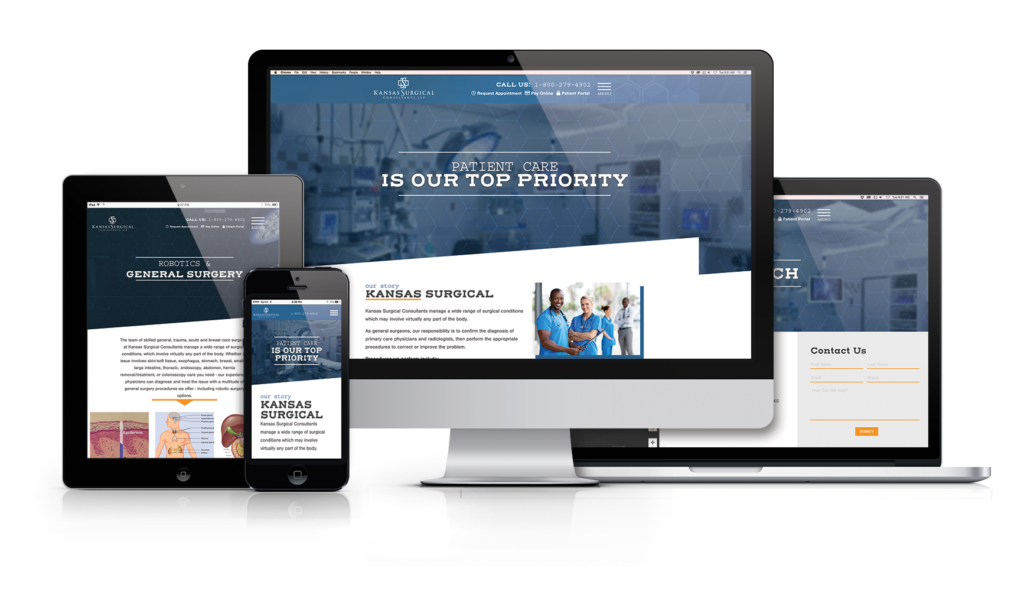 Client Comments
"LMG made the Kansas Surgical Consultants website much more user and mobile friendly. The new site makes it much easier for patients to find surgical information, download patient forms, and leave us feedback! Our top priority is patient care. Now our easy to navigate website does just that for our patients as they research, prepare for surgery, and get in touch with us with any questions throughout the recovery process. Our website is much more of an easily searchable resource for patients now. We absolutely love it!"
– Micki Debbrecht, Kansas Surgical Consultants Practice Administrator