Jessica Named Honoree of NextGenUnder30 Kansas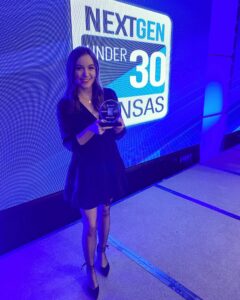 Jessica Here!
This past weekend, Mia and I attended the Inaugural Awards Dinner for the NextGenUnder 30 Kansas. If I had to choose one word to describe this whole event, it would be "inspired." Sitting in a room filled with hundreds of other Young Professionals in Kansas, I can't help but be amazed at everything we've all accomplished so far in our lives.
Celebrating its inaugural year in Kansas, the NextGenUnder 30 recognizes and encourages the 'next generation of innovative, creative, and inspiring individuals who push the boundaries in various categories of endeavor.' At this ceremony, recipients were reminded that the award isn't solely to recognize what we've already achieved, but also to celebrate future achievements, too! We're here to make a difference for our community – and while we achieve so much individually, working together is what truly makes an impact in Kansas.
Not only were we recognized in Topeka, we were also proclaimed today at our City Council Chamber Meeting. I was invited to attend this, among other Wichitans who won the award. The process was quick and brief, but still a fun recognition to be announced by our City Council Members.
Overall, it has truly been an honor to be recognized as a recipient of this award, especially with all of these other talented individuals. I want to thank all of my family and friends for helping me reach success and obtaining this great honor. Without any of you in my life, I most certainly wouldn't have been shaped into who I am today. Cheers to many more successful moments and making a difference in Kansas – and in the world!