On a Ledger & the Road Map Tool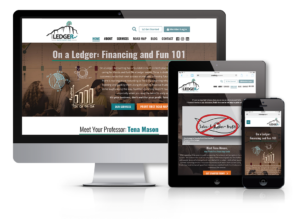 After months of planning, meetings, research and development, Lee Media Group has proudly launched yet another vibrant custom website for local accounting firm, On a Ledger. The new site not only features a fun, responsive custom design that coincides seamlessly with functionality – it also proudly boasts its very own custom created "self-service" Profit First based accounting tool.
LMG's Lead Web Developer, Tabytha, implemented membership functionality with an automated sign up process that allows users to receive secure access to the Profit First Road Map tool starting at $84 per month. Upon sign up, the user receives instant access to the tool that will walk them through the process of inputting and organizing business expenses to analyze how their current business spending looks in comparison to how it should be spent. While entering expenses can be a daunting task for business owners, the custom created chart simplifies the process and offers explanations specific to each expense.
How Does it Work?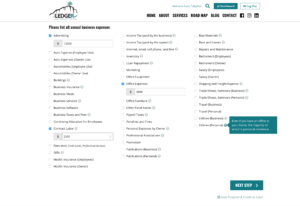 Users can create unlimited Road Maps with monthly access. As finances progress and figures change throughout their journey, the customized results change accordingly. Once expenses have been entered, a customized report can be downloaded with expense advice tailored to each client's needs. Clients then follow the Profit First Road Map tool's advice to increase profit over the course of their subscription. Visitors of the site can also sign up for a free preview of the Profit First book before signing up as an added bonus.
The Road Map tool – as well as integrated videos throughout the site featuring owner, Tena, offer business owners advice, tips and act as a guide along the path to a successful Profit First business model created by Mike Michalowicz that places profit before sales and expenses. When Mike caught wind of the new Road Map tool, the Profit First creator was so impressed, he made a testimonial for On a Ledger!
A Fun Site Reflects a Fun CPA!
Tena was such a blast to work with for our team. She truly makes accounting and number crunching fun – a task that isn't always easy. We are so proud of this custom site and custom "do-it-yourself" accounting tool our team was able to create to exceed her expectations. We truly believe it will change the lives of entrepreneurs and the success of their businesses. A brighter future filled with more vacations and less financial stress will reap the rewards of hard labor for many business owners. Work hard, play hard with Profit First!