This year marks the inaugural UpCity "Best of" awards honoring the top providers around the world in specific service categories based on their Recommendability Rating. The UpCity Recommendability Rating was developed to determine a B2B service provider's credibility and trustworthiness, giving UpCity the confidence to recommend them to those businesses seeking services.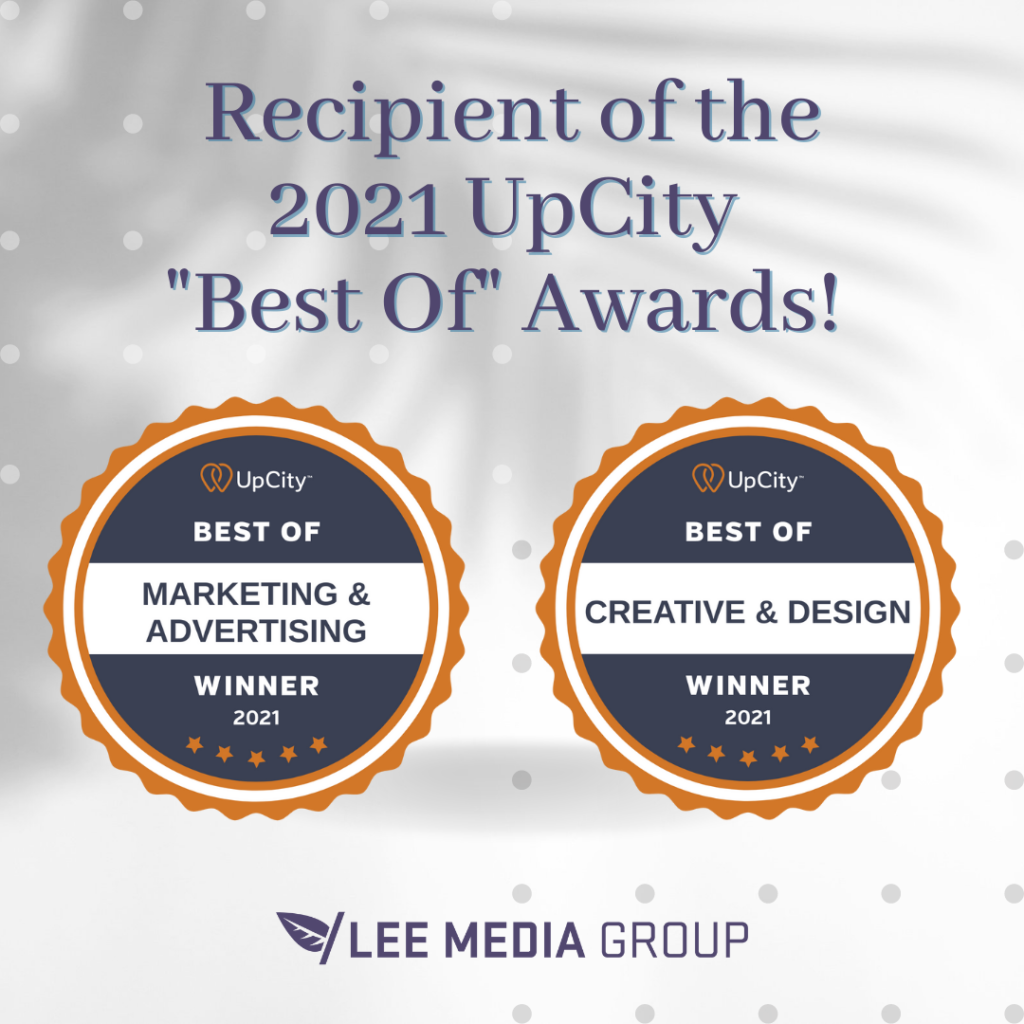 We are thrilled to announce that Lee Media Group has been recognized as a Best of Creative & Design and Marketing & Advertising award winner by UpCity!
UpCity is a resource that helps connect businesses to service providers they can trust. With more than 70,000 listed providers from marketing agencies to accounting firms to HR consultants to IT specialists and many more – nearly 2 million businesses visit UpCity to research and identify the best partner for their needs.
"When you customize the end product for the client, the results speak for themselves. Lee Media Group knows how to build a marketing strategy and implement it for success. We're proud to offer these awards in recognition of that success!" – Heidi Sullivan, SVP of Product & Marketing, UpCity on Lee Media Group
Client Testimonials
This honor is driven in large part by our 5-star review rating on UpCity. Here are some of our favorite pieces of feedback we've received from our incredible customers:
"Outstanding team who was very personable and patient in dealing with a Chief of Police who had numerous questions in setting up a department's social media account. Starting with the Rose Hill Police Department during my tenure there, I had on occasion worked with Lee Media on department projects. My agency had no Facebook account and I had no idea how to set one up. Mia and her team took the time to meet with me and walk me through getting our social media presence established which was very important to me and certainly valuable in connecting law enforcement with their communities served. Mia and her team also assisted with our website as well as taking official department photos for my agency. I could not have done this all without their assistance. Great job and keep up the outstanding work as it is appreciated. Thank you!" – Nelson Mosley, Customer
"As the President of the Rose Hill Chamber, we have been very fortunate to have Lee Media Group work with us on building a fantastic website, and our social media. I have been very impressed with the professionalism and the way they focus on us as clients. Lee Media Group's creativity to bring ideas into action is very refreshing. I admire the way that they pay attention to detail and the fantastic customer support that they have provided. I am just amazed at the knowledge Lee Media has with websites and social media. Thank you Lee Media for making our ideas actionable and scalable." – Gerald Amato, Customer
Our team is honored to receive these amazing awards. We'd like to thank UpCity for their efforts in helping businesses find the right marketing company to get results. We look forward to growing our partnership with them!