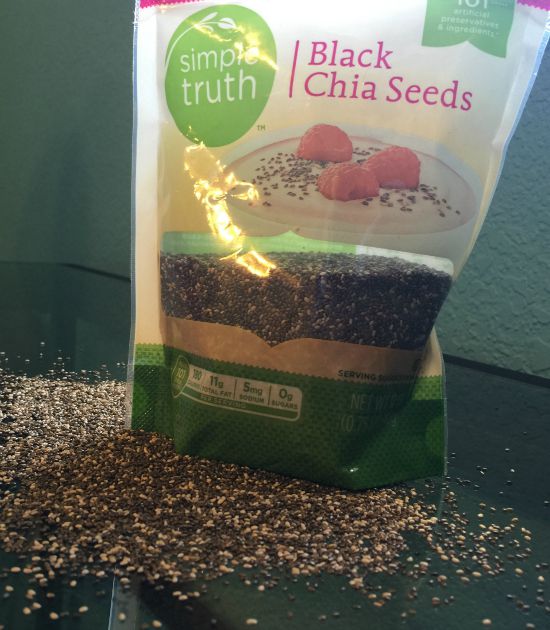 By Kelsey Shackelford
Ch-ch-ch-chia….the super seed, not the super creepy planter that grows grass in the shape of everything from Willie Nelson to Elvis. Chia seeds are goodness-rich foods, and you need to get more of them in your life.
Chia seeds come in two varieties, black and white. Important – If it's brown, put it down! Brown chia seeds are immature and shouldn't be eaten. They may crack inappropriate jokes if you listen close enough though.
The seeds are teeny tiny – comparable to a sesame seed. Don't be fooled by their size. They pack a big punch, boast high dietary fiber, and they're a good source of calcium. Chia seeds are gluten-free and a wholefood, meaning they can be eaten raw.
Chia's high level of soluble and insoluble fiber can aid digestion, AND it's a great source of Omega-3, a vital nutrient for brain function and overall health. All. The. Things.
But wait, there's more – Chia seeds can absorb up to 16 times their weight in liquid, which can help your body regulate hydration and electrolytes.
Working the Chia into your diet. I could go on and on about the benefits of adding Chia to your diet. Oh wait, add them to your diet. I should explain the best ways to do that…
Chia seeds essentially have no flavor, so you can add them to just about anything. I personally like to eat them on salads, or in soup. Pour a generous spoonful into to your morning bowl of cereal, oatmeal, juice or smoothies. You can even eat the little devils right out of the bag, but you should know they will definitely get stuck in your teeth.
Egg substitute. Use 1 tablespoon finely ground chia seeds (grind them dry in a blender, food processor, or coffee grinder) and 3 tablespoons of water per egg in a baked recipe. True story.
Now it's your turn. You've got a three day weekend coming up. How will YOU eat the Chia? Report back and let us know.