Social Tap Boasts the Largest Tap Variety in Wichita, Beer Cans To Go & One of the Largest Patios Around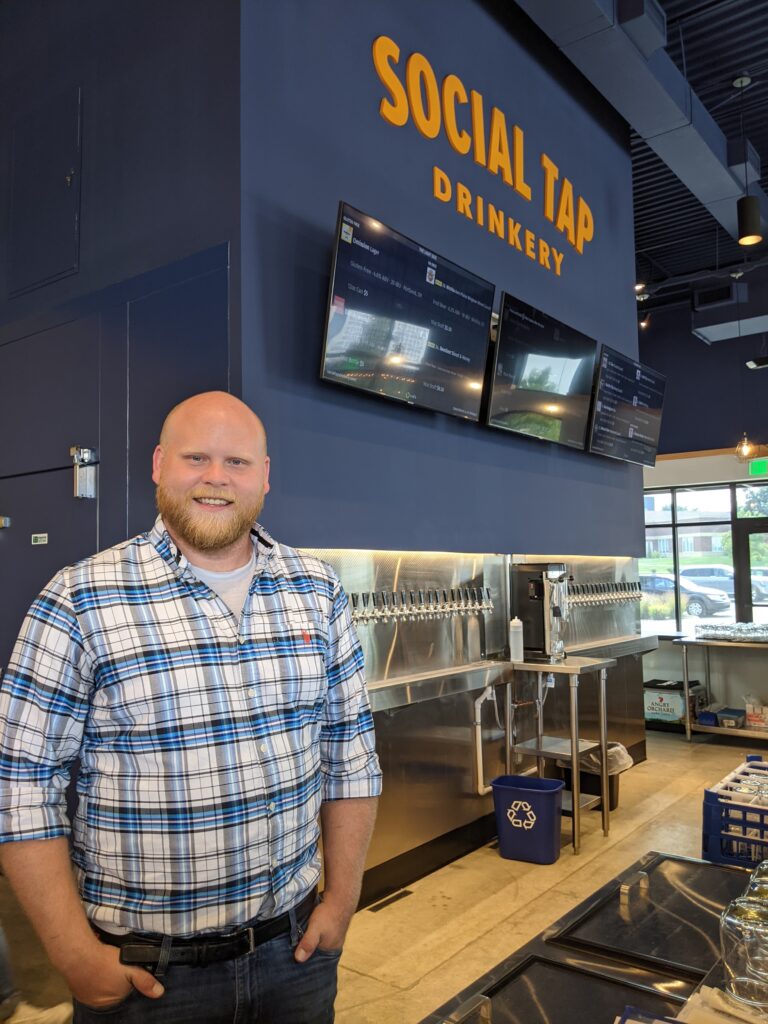 We checked out the new Social Tap Drinkery located next to Wichita State University and chatted with General Manager, Zach Grazer.
What's different about Social Tap? "We have the biggest tap variety in Wichita," Zach said. Of their 52 taps offered, 38-40 are rotating beers in addition to wine, seltzers, cocktails, coffee, and root beer.
Other cool stuff:
Orders are taken online through a mobile ordering & payment system.
There's only one TV. Despite mobile orders for quick service, Social Tap focuses on fewer screens and more socializing.
The food and its many options. Orders from Sungrano next door are delivered at Social Tap. We tried the Chicken Bacon Pesto torpedo sandwich and So-Pep pizza (the hot honey is amazing)!
The atmosphere. "I love the openness of it in here," we heard one customer say. The walls and TV display their interesting, super cool logo. Can you guess what it is?
The patio. Zach opened the garage doors for us once it cooled down and we moved outside to enjoy our margarita, rum cocktail, & beers outside at their pond-side patio that seats around 70.
Last, but certainly not least…BEER CANS TO GO! Zach told us in a few weeks Social Tap will offer 19.2 ounce cans that can be taken to go for any beer on tap (one of the few places in Wichita to offer this). Cheers to that!
As a digital marketing firm, we appreciate Social Tap Drinkery's branding that perfectly balances user-friendly technology and communication. A cool atmosphere, fun logo (we all took turns guessing what it is), and quick mobile ordering/checkout service certainly lives up to its name and got us socializing (for a few hours longer than expected). "Experience the flow" and make it a stop on your own local tour!
Located in Downtown Wichita at the Garvey Center, Lee Media Group is proud to support any other local business we can. Where will our next outing take us? Stay tuned…