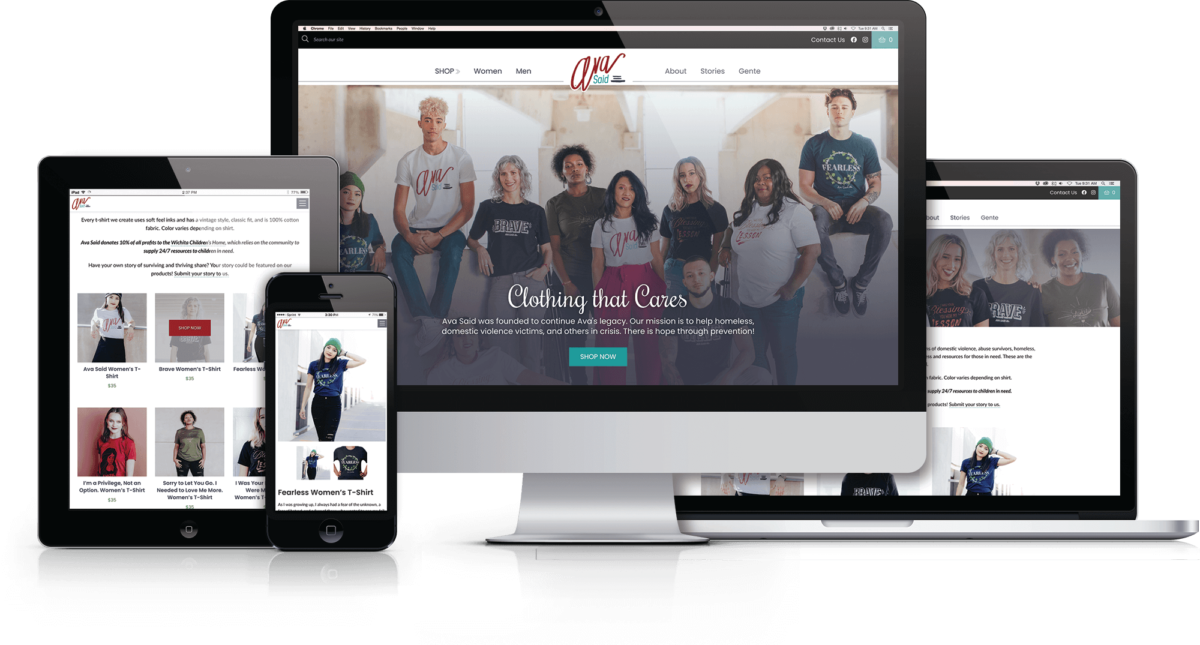 Who We Helped
Ava Said is a newly launched local clothing company designed to create resources for the homeless and victims of domestic violence in Wichita, Kansas. Each men's or women's t-shirt or bracelet tells a story submitted about overcoming life's hardships. The t-shirt designs are created by local artists based on these stories and then printed locally. Each Ava Said bracelet is handcrafted by an artist in Nicaragua with proceeds going towards supporting his family.
Ava Said donates 10% of all profits to the Wichita Children's Home, which relies on the community to supply 24/7 resources to children in need. 
What We Did
Thirza (Tear-za) Bird, Founder of Ava Said, came to us with a dream to continue her grandmother, Ava's legacy of helping those in need and creating opportunities. She had an idea of what she wanted for the design of her company's website. After just a few meetings with Thirza, we clearly understood her passion, mission, and needs when creating Ava Said's new e-commerce website.
How We Did It
Once we clearly understood Thirza's goals for the new Ava Said website, our writer went to work gathering information from Thirza to piece together a clear, user-friendly layout of content for the brand new e-commerce website to tell Ava's story, legacy, and mission.
Our lead web designer went to work creating a vivid, responsive custom WordPress design and theme to implement the brand's vibrant logo and professional photos. Website visitors can easily click through to find Ava Said's mission of "Clothing that Cares" and shop, of course! The "Gente" ("People") page features fun photo uploads of real people representing Ava Said's clothing and mission.
Ava Said's Website Features:
Custom WordPress website with mobile-friendly theme
eCommerce/Shopping Cart functionality
Online payments processed via PayPal
USPS integrated for live shipping calculations
Client Comments
"I have had so many compliments regarding my website design and everyone loves the artistry that went on to put it together. I couldn't be more pleased about how well the process went with this project. I gave Mia and her team an idea of how I wanted the website to look and I didn't have to say much after our first meeting because they understood exactly what I envisioned. Again, I couldn't be more pleased with what this team has done. Thank you for the GREAT art you created, Lee Media Group!" – Thirza Bird, Founder of Ava Said